You may be committed to Tenergy rubbers. That's natural. More than 50% of pro players use Tenergy rubbers. This one statistic is more than enough to tell the high standard and dominance of Tenergy rubbers. But which Tenergy suits you, Tenergy 05, or Tenergy 64, or Tenergy 80, or it may be Tenergy 25. You may be in a dilemma to choose the right one for you. If you are an attacker and rely more on power in your looping rather than spin, Butterfly Tenergy 64 is the right option for you. That's because Tenergy 64 is the fastest rubber in the Butterfly Tenergy family with precise control.
Let's see why is Tenergy 64 so good?
Specifications
Class: High-Tension Pimples-in
Speed: 135
Spin: 105
Control: 67
Hardness: Medium
Throw angle: Medium High
Gears: Many Gears
Durability: High
Thickness: 1.7 mm, 1.9 mm, and 2.1 mm
Made in Japan
Overview of Butterfly Tenergy 64
Tenergy 64 is faster than Tenergy 05 (the first of the Tenergy series) but imparts less spin.
Top sheet Chemistry
The top sheet of Tenergy 64 is made with the natural rubber formula. That's why being a medium-hard rubber, it feels so soft. It gives you a good feeling. DHS Hurricane 3 Neo uses synthetic rubber formula, has the same hardness as Tenergy 64 but feels much harder. Though it is costlier than Hurricane 3 Neo, Tenergy 64 is more durable due to the use of natural rubber.
Pimple Geometry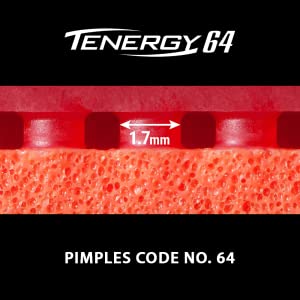 Tenergy 64 is an inverted type rubber (Pimple code- 64) that has thin long pimples and the space between pimples is wider than Tenergy 05. That's why you will get a softer feeling. You can hit the ball with more control.
High-tension Rubber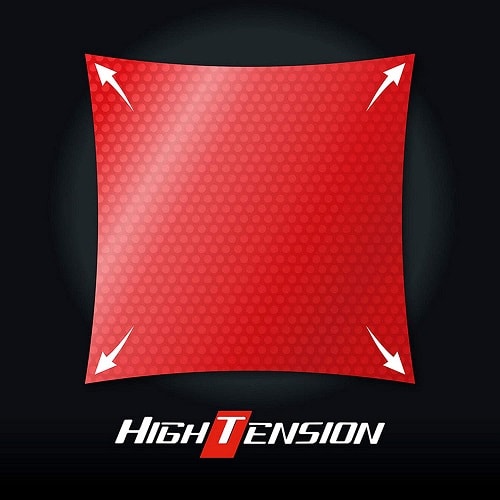 As with other Tenergy rubbers, the top sheet is stretched more than 300% before pasting on the sponge during the manufacturing process. This high tension rubber reacts more against the incoming energy and the ball bounces more to maintain the trajectory and high speed.
Spring Sponge Technology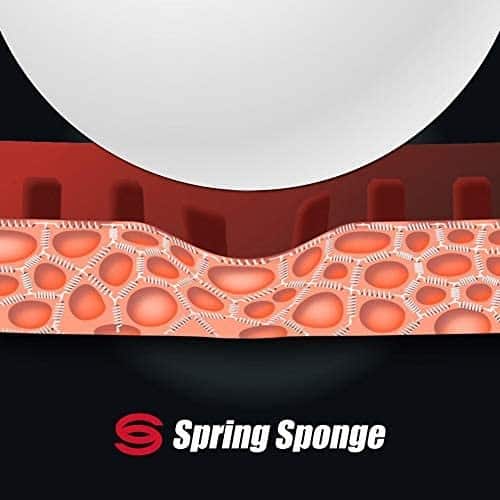 Butterfly uses the innovative spring sponge technology that helps these Tenergy rubbers to generate high speed and the catapult effect for which they are famous. In a normal rubber, total impact energy is absorbed, so to get speed, players have to give their effort. But in Tenergy 64, the elasticity of the sponge is highly increased by the incorporation of large numbers of tiny air bubbles. So when a ball hits the rubber, the air bubbles contract and then expand to release the energy. This springing action of the sponge drastically increases speed which invariably also increases spin.
Positives of Butterfly Tenergy 64
High Speed: This is the fastest rubber in the Tenergy family.
Good Spin: This rubber is also capable of producing sufficient spin with a spin rating of 105.
Easy for Smashing or Blocking: The Tenergy 64 is insensitive to the incoming spin. This makes it easier for power-hitting or blocking.
Spin in Soft Stroke: The surface of Tenergy 64 is grippy enough to hold the ball for a longer time.which helps generate spin especially in soft strokes like serve, drop shots, etc.
Durability: Though it is a high-tension rubber, the durability of Tenergy 64 is on the higher side.
Precise Control: This rubber has also decent control especially for advanced players.
Very Reputed Brand: A world-class trusted brand like Butterfly
Negatives of Butterfly Tenergy 64
High Price: With respect to the other rubbers, Tenergy 64 costs more.
Not for Beginners: This rubber is not for beginners. You need decent techniques to get the best out of this rubber.
Butterfly Tenergy 64 FX: The Softer Version
In Butterfly Tenergy 64 FX, the pimple structure is not changed, only the sponge hardness is reduced. To increase the touch sensitivity, the hardness of the FX version is reduced to 4° and makes the rubber 5% lighter than the original Tenergy 64. Tenergy 64 FX is for those offensive players who love lighter rackets and the soft feeling on the impact of the ball with more control.
Conclusion
If you are an attacker and looking more on the safety aspects for consistency in your power strokes, Butterfly Tenergy 64 is the right option for you. It is one of the best-attacking rubbers that can add a new dimension to your power play.
For other alternatives, please go through my article on best table tennis rubbers.