"STIGA Pro Carbon Vs Killerspin Jet 800" is a widely debated comparison among table tennis lovers. Both are Shakehand type aggressive table tennis rackets that are mainly designed for intermediate players. In terms of popularity, STIGA Pro Carbon tops the 1st position with a rating of nearly 2600 (4.6 out of 5) while Killerspin Jet 800 lies just behind with a rating close to 1100 (4.6 out of 5) on amazon.com.
So which one is better? In this article, I will try to depict the nuts and bolts of "STIGA Pro Carbon Vs Killerspin Jet 800", so that you can easily pick the right one according to your playing style.
STIGA Pro Carbon Vs Killerspin Jet 800: Comparative Analysis
The performance of a table tennis racket is evaluated both by blade and rubber properties. The combination of these properties results in three distinct attributes, speed, spin, and control which ultimately determine the class of a racket, which may be aggressive, allrounder, or defensive.
Items

STIGA Pro Carbon

Killerspin Jet 800

Blade Comparison

Type of Blade
Offensive, Shakehand
Offensive, Shakehand
Composition
7 layers composite
(5-ply wood + 2 layers carbon)
7 layers composite
(5-ply wood + 2 layers carbon)
Type of Wood
Balsa
(Soft, porous, and springy)
Premium wood
(Combination of different wood layers)
Technology
1. Carbon technology
2. Balsa technology
3. Crystal technology
1. Dual carbon technology
2. Premium wood for feeling and control

Rubber Comparison

Rubber
STIGA S5
Nitrx-4Z
Sponge Thickness
2.0 mm
2.1 mm
Sponge Hardness
Not Known
40 degree (Medium-Hard)
ITTF Approved
Yes
Yes
Technology
1. Nano Composite Technology
2. ACS technology
1. High tension rubber
2. Grippy top sheet

Handle Comparison

Type of Handle
Flared
Flared
Technology
SDT (Shock Dispersion Tube)
Superior burnt wood handle

Performance

Attributes
Manufacturer's rating
Speed: 99
Spin: 100
Control: 80
Manufacturer's rating
Speed: 9.5/10
Spin: 9/10
Control: 8/10

Other Key Points

Other Features
1. WRB technology for maximizing
the energy transfer
2. Rubber can be replaced
3. Weight: 185 grams
1. Wooden side tape
(Permanent in nature)
2. Rubber can be replaced
3. Weight: 190 grams
4. Warranty: 30 days
Price
$74.72
(Price on Amazon)
$84.49
(Price on Amazon)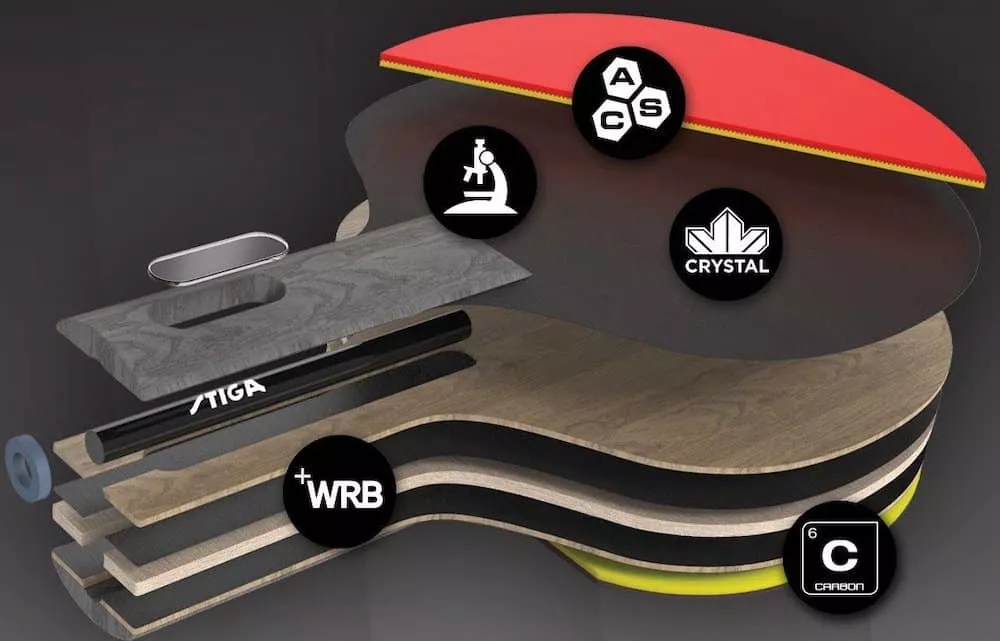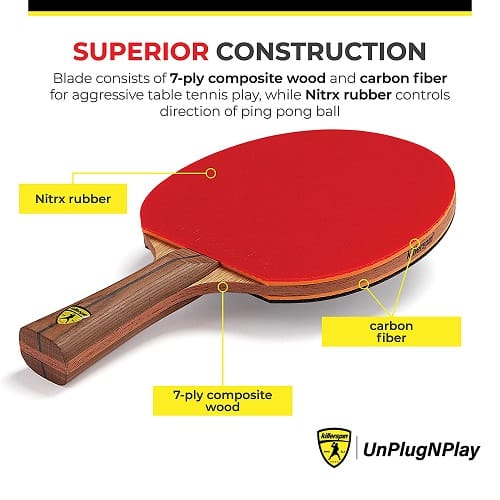 Blade Comparison
Both paddles consist of 7 layers (5W + 2C) of composite blades where carbon layers act as an outer surface over the 5-ply wood. The addition of carbon layers increases the rigidity over flexibility which hardens the outer surface for more power over an extended area which we refer to as the sweet spot.
The difference is the type of wood used. STIGA Pro Carbon uses balsa wood as an inner blade material. Balsa wood is very soft in nature. It is also light, porous, and springy. Due to these characteristics, balsa wood is capable to generate a lot of spin. Topspin lovers would love this wood for generating heavy topspin.
Whereas Killerspin Jet 800 uses the blade which has premium wood as inner material. This premium wood is the combination of several kinds of wood which in turn infused with carbon increases speed to a great extent.
Rubber Comparison
STIGA Pro Carbon has 2.0 mm thick inverted (pips-in) type rubbers while the rubbers of Killerspin Jet 800 are 2.1 mm thick. Both rubbers, STIGA S5 and Nitrx-4Z have got approval from ITTF. 
STIGA uses two technology in the chemistry of the S5 rubber, Nano Composite Technology, and ACS technology. Nano Composite technology tightens the bonds among the molecules in the rubber which increases the elasticity to a great extent resulting in high spin. ACS technology induces tiny air capsules in the sponge which drastically increases the elasticity and the sponge acts as a spring. During impact, the sponge stores more energy and releases the energy by springing off the ball with higher spin and speed.
Killerspin Jet 800 uses the concept of high tension rubber where the top sheet is stretched to the thinnest possible before gluing with the sponge. Due to this, on impact, there is more transfer of energy from the top sheet to the sponge which is resulted in high speed. Nitrx-4Z rubber is also very grippy in nature. On soft strokes, like during serve, it grips the ball and holds it for a longer time which leads to high spin.
Handle Comparison
Both rackets have the same flared-type handle which is the most comfortable grip for forehand dominant players.
STIGA uses the SDT (Shock Dispersion Tube) technology in the handle construction where a hollow metal rod runs through the handle. This hollow tube absorbs shock and vibrations and transfers them out in the form of energy.
Killerspin uses the concept of the burnt wood handle which gives you superior grip regardless of your hand size.
STIGA or Killerspin: Which Brand is Better?
As a manufacturer, both brands are reputed and trusted for the quality table tennis equipment they offer. While Sweden-based STIGA started its journey in the year 1944, Killerspin is a relatively new USA-based company that came into the picture in 2001.
STIGA Pro Carbon Vs Killerspin Jet 800: Which is a Better Paddle
STIGA Pro Carbon and Killerspin Ket 800 paddles are very much similar. They are aggressive in nature which can generate more speed and spin with some sacrifice in control and feeling. Both rackets are designed targetting intermediate club-level players.
But there are some differences between them, which will help you to choose the better one for you.
If you are an aggressive player who prefers speed to dominate over your opponents , you may go for Killerspin Jet 800. This is a lightning-fast racket that will give you more speed than STIGA Pro Carbon. The heavy racket will help you to induce more punch in your shots from mid-distance.
If you prefer control oriented aggression, STIGA Pro Carbon is the best choice for you. This offensive racket offers better control than Killerspin Jet 800 to give more consistency in your game.
The Jet 800 is a bit more offensive than the Pro Carbon racket. While STIGA Pro Carbon is a good option for advanced beginners and intermediate players, the choice of Killerspin Jet 800 should start from the intermediate level.
I have tried to highlight all the technical aspects to differentiate between the two highly rated paddles. If you have any questions, let me know in the comment box below.
Thank you for continuing till the end.