You may be a beginner, an intermediate player, or maybe you have not yet started to enjoy the table tennis game. Whatever you are, knowledge of table tennis equipment is very important in your table tennis journey.
But, which equipment do you need for table tennis?
You need four basic pieces of table tennis equipment to play the table tennis game.
A Table Tennis Table: It is used as a playing surface.
A Table Tennis Net: It divides the table into two equal parts.
Table Tennis Balls: A 40+ mm diameter ball that you hit to bounce on the appropriate area of the table.
A Table Tennis Bat: This is your weapon to hit the ball. A Bat consists of a Blade and Rubber which are glued together to form the racket.
Apart from these, a good (lightweight and grippy) pair of table tennis shoes is always better to use.
Let's go details of this equipment.
Basic Table Tennis Equipment
1. Table Tennis Table
The Table is made of a continuous material like hardwood to yield a uniform bounce of about 23 cm (9 inches) when a ball is dropped from 30 cm (11.8 inches) height.
As per the official table tennis rules, the size of a table tennis table is 2.74 m (8.99 feet) in length, 1.525 m (5 feet) in width, and height of 76 cm (2.49 feet) respectively.
The surface of the table is uniformly dark-colored and matte. Blue and green colored tables are more popular.
For material, Plywood, MDF (Medium-density fibreboard), or Particleboard is the most common for a table tennis table.
In the market, you will find a TT table of various thicknesses from 12 mm (0.47 inches) to 25 mm (0.98 inches).
A 12 mm thick table is the cheapest and gives a horrible bounce whereas a 25 mm table is the best to produce uniform and good bounce for a pleasant playing experience.
After the material and thickness, undercarriage is the next most important part of a table that gives strength and stability to the table. Undercarriage may be a single trolley type or dual trolley type.
There are two types of table tennis tables, one-piece (Rollaway) and two-piece tables. One-piece Table (Rollaway) comprises a single trolley system whereas you will find a dual trolley system in a two-piece table.
Again as per your need, you can opt for either an indoor table tennis table or an outdoor table tennis table. Outdoor tables are designed in such a way that they can withstand heat, wind, and moisture.
If you want to know more, my article on "How To Select Your Ideal Table Tennis Table?" may be helpful to you.
2. Table Tennis Net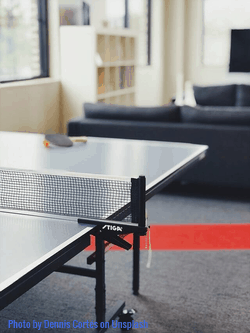 A net divides the table into two equal parts and it is fixed at the edge of the table.
Features of a Table Tennis Net
The height of the net is 15.25 cm (6 inches).
The top of the net should be at the same height throughout its length.
The bottom of the net should be as close as it can be to the table but it must not touch the surface of the table.
The net is fixed at the edge of the table from top to bottom with the help of supporting posts.
Material: Nylon mesh, Polyester cotton, and synthetic plastic are the most common materials for a net.
These types of table tennis nets are the most popular. These are:
1. Retractable Table Tennis Net
This portable, adjustable-length, and easy-to-clamp retractable net can turn any table into a table tennis table. You can open the net to the desired length and set it in seconds with the help of an easy button clamp. This east-to-carry net allows you to play anywhere anytime.
2. Clip-On Table Tennis Net
Compared to the retractable net, this easy-to-use net features a spring-activated clip that helps to keep the net straight with tension.
3. Professional Table Tennis Net
This is the best among the three as it is sturdier and more stable. The hand tightened screws enable to keep the net at the right height with the right tension.
3. Table Tennis Ball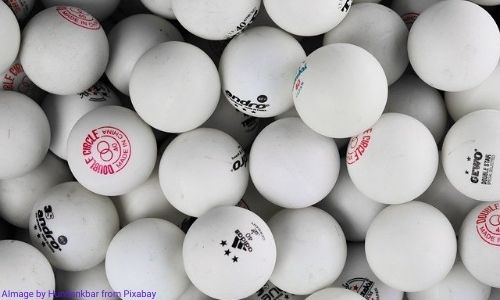 A table tennis ball is spherical in shape, with a diameter of 40 mm. The weight of the ball is around 2.7 gm.
Only celluloid or similar plastics are allowed as a material of a ball. The color of the ball must be white or orange with a matt finish.
In the market, you will find two variations of table tennis balls. One is seamed, and the other one is seamless.
Only seamed balls are available for celluloid, whereas, for plastic, you will find both types of balls.
Star rating is the main factor to differentiate the quality of a table tennis ball. Three types of star ratings are available. One star denotes the lowest quality, three-star denotes the best quality whereas two-star rests between them.
4. Table Tennis Bat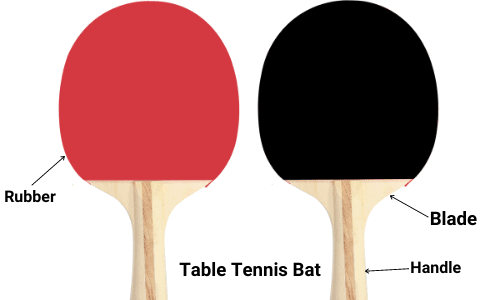 A table tennis bat is used to hit the ball to produce speed and spin. It consists of a blade and a rubber.
You can either buy a ready-made bat from the market or a blade and rubbers separately and paste the rubber properly on the blade to make a customized racket. Make sure to use only red and black colored rubbers.
As a beginner, you don't need to worry about a customized racket. A ready-made table tennis racket is sufficient to build up your technique. As you grow from beginner to intermediate and intermediate to advanced, you can opt for a customized racket.
Blade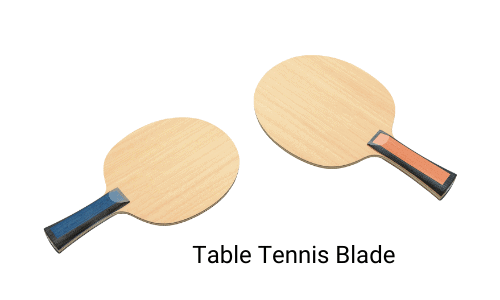 A table tennis blade is the wooden part of a table tennis racket. According to ITTF, at least 85% of the Blade thickness shall be of natural wood. There may be some adhesive material like carbon fiber, glass fiber, and compressed paper.
The lower part of the blade is the handle which helps you to grip the bat. The handle is of three types.
AL- Anatomic, Fl – Flared and ST – Straight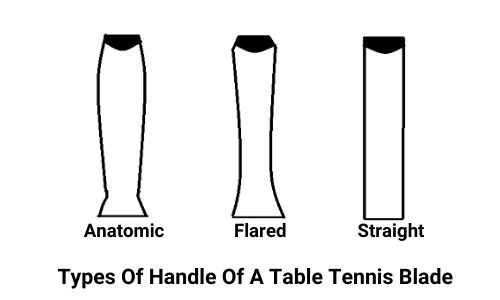 Flared handles are most popular and it is the convenient way to hold a racket for a beginner.
Now, as per rule, the racket may be of any size, shape, or weight but the blade must be flat and rigid.
The quality of the table tennis blade depends on the no. of layers of wooded ply used to form the blade. It may comprise 3 layers, 5 layers, or 7 layers. There may be an extra layer of carbon fiber or other adhesive materials.
Blades with a higher level of layers are harder and faster.
Rubber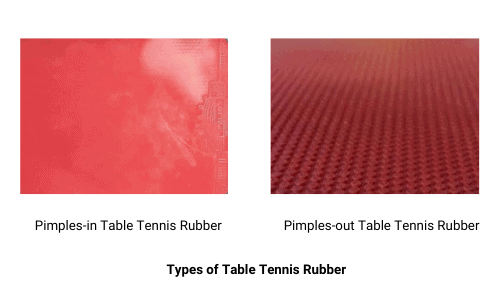 Table tennis rubber is the outer surface of a racket that comes with contact with the ball at the time of hitting.
It is a combination of a sponge and a rubber top. The sponge thickness determines the characteristics of the rubber. When we use the term "table tennis rubber thickness", it's actually the sponge thickness.
Various thickness of the rubber is available in the market, ranging from 1.0 mm to 2.3 mm.
The thicker the rubber will be, the more it will be capable to impart spin with speed whereas thinner rubbers help control the ball.
Offensive players prefer a thicker sponge while defensive players use a thin sponge.
Table tennis rubbers are of two types, pimples-in, and pimples-out. Players use the pimples-in rubbers for producing attacking shots with the combination of speed and spin. Pimples-out rubbers are defensive types of rubber that help you to block and control the ball for longer rallies.
Some Useful Tips
Here are some useful tips for your new table tennis racket:
After receiving your racket, the first step is to remove the protective film on each of the black and red rubbers.
You should store the racket inside its case between uses. If left out for a prolonged period, clean the rubbers.
As you use the racket, the rubbers will attract dust from the ball and will lose their feeling of stickiness. Clean the dust by wiping them down with a bit of water on a clean cloth.
Following about a year of heavy usage, the rubbers will slowly lose their spin and replace your bat with a fresh one to make your shots more effective.
Recommended Topic:
"How to Easily Select a Perfect Table Tennis Racket?"
Wrapping Up
These are the basic table tennis equipment that you require to start your journey with the game table tennis.
There are many popular brands like Butterfly, Stiga, Donic, Joola, and Killerspin who offer quality table tennis equipment.
Take proper care of your table and bat for longevity. After the play, cover your board with a good cover to protect it from foreign materials.
Keep your bat inside a table tennis bat cover for protection from dust. If it gets dirty, clean it with plain water and a clean cloth.