Are you searching for the best table for enjoying ping pong in your home? Most probably your search will come to an end today. Yes! because today I am reviewing the STIGA Advantage Pro, the unbeatable choice among the top ping pong tables in the market available today. This professional table tennis table has a nice balance between quality and price that will certainly give you the best experience without spending too much money from your pocket.
Let's come to details of this good quality ping pong table, STIGA Advantage Pro.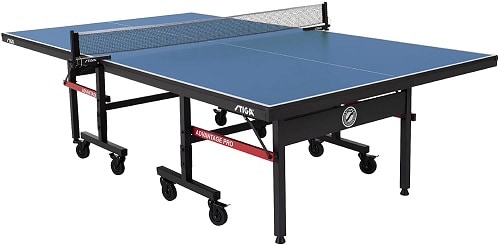 Table Technology
Play Dimensions: 9' x 5' x 2.5' (Full size)
Storage Dimensions: 2.3' x 5' x 5.3'
Payback Dimensions: 5.5' x 5' x 5.3'
Thickness: ¾" (19 mm)
Material: MDF
Color: Blue
Other Specifications
Apron Material: Steel
Apron Thickness: 1.5"
Leg Material: Steel
Leg Thickness: 1.5"
No. of Wheels: 8
Wheel Diameter: 4"
Leg Levelers: Yes
Net: Clamp Style
Weight: 211 lbs
Warranty: 90 Days
Review of STIGA Advantage Pro
The Advantage Professional is the top model of STIGA's Advantage series indoor ping pong tables.
Smooth, Thick Tabletop
For a recreation table, a 15 mm tabletop is most common. But STIGA has designed this Advantage Pro model with a higher 19 mm thick tabletop to take care of both recreational activities and serious learning. The bounce you will get from a 19 mm top is decent enough not only for beginners but also for professionals who can also take part in their routine practice. To get more uniformity and consistency in bounce quality, the tabletop is painted with multi-layer repeated roller coating. To increase visibility, brightness, and durability, a method of silkscreen printing is adopted on the outer table surface which is further cured by ultraviolet light.
Well-built and Strong Undercarriage
Other than the tabletop, the important consideration of a ping pong table is the quality of the undercarriage. How well it is built. Is it strong and sturdy enough to give a long run? STIGA Advantage Pro fulfills the criteria in every single part, like the 1.5" thick alloy steel frame which takes care of the tabletop to prevent it from sagging, the 1.5" square alloy steel strong legs that take the load of the table.
Independent Halves for Easy Assembly
The Advantage Pro consists of two equal and separate table halves with their supportive undercarriage. After receiving the package, you only have to attach the legs to complete the assembling procedure. An instruction manual provided with the package will guide you to successfully complete the assembly.
Ultra-compact Storage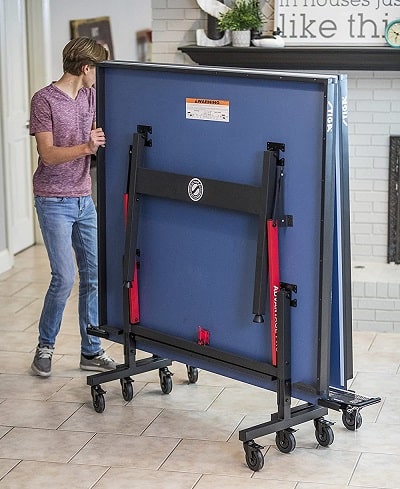 Due to the separate halves, the folding and unfolding processes do not take time more than a minute. The auto foldable nature of legs eases the process to a great extent. When you join the table halves, it will take a very compact shape of 28" x 60" x 64". Due to this compactness, it will not take much space for storage. You can easily glide the folded halves with the attached 4" caster wheels to your desired storage location.
Easy to Set Clamp-on Style Net
The 72" clamp-style net is super easy to attach and detach against the sides of the table. Also, this good-quality net has a manual tensioning arrangement to keep the net tight during play.
Supportive Features
Leg Levelers: To keep the table flat on an uneven surface, there is the provision of levelers at the bottom of each leg. You can manually adjust the table height by just rotating the levelers in a clockwise or anti-clockwise direction. Also, these levelers keep your floor free from scratches.
Safety Features:
To prevent any types of mishappenings during storage, there are dual anti-lifting safety latches that keep your folded table secure so that it does not open suddenly for any types of accidents.
There is also a provision of locking arrangements in the premium wheels to keep the table stable during play and storage conditions.
Playback Feature: This is a solo play feature that almost all high-quality tables provide. STIGA Advantage pro is not also an exception. When you are sort of practice partners, just secure one table half vertically against the other and practice to enhance your skills by rebounding the ball against the vertical one.
Positives of STIGA Advantage Pro
Easy to assemble as the table comes in 95% preassembled condition.
Premium quality smooth table surface for accurate and consistent ball bounce.
Less storage space needed due to compact folded table
Easy to set up due to two-piece design and clamp-style net system.
4" bigger wheels for easy movement from one place to another
Strong and sturdy undercarriage for better support
High durability due to good quality material
Premium looks and good finishing
Great for home, and office use
Reasonably Priced
STIGA's brand reputation
Negatives of STIGA Advantage Pro
Not a 25 mm thick table (Suitable for professional players)
Not suitable for tournament play
Summary of STIGA Advantage Pro
If you want the best table with a budget restriction, nothing is better than this Advantage Professional table tennis table. This high-quality table has every specialty to make you happy for the perfect selection. Moreover, you don't have to spend lots of money like a premium Kettler or Cornilleau ping pong table.
But still you are crazy for a 25 mm table, the JOOLA Inside 25 is the best solution for your home.
Thanks for continuing till the end.