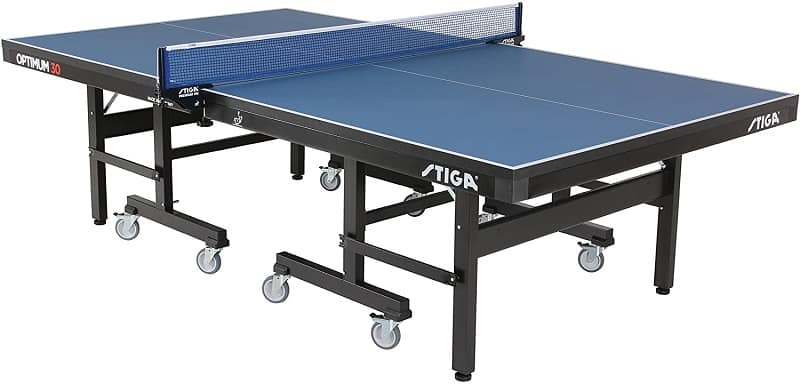 STIGA Optimum 30, is really optimum regarding the quality of bounce of a table tennis table. Have you ever heard of a table of 30 mm thickness? Yes, STIGA Optimum 30 is the first-ever ITTF-approved table tennis table that has a 1⅕"(30 mm) thick tabletop. To match this massive thick table, STIGA has ensured top-notch supporting construction with an outstanding net to guarantee your ultimate satisfaction.
Rating (4.8/5)
| | |
| --- | --- |
| Table Technology | 5/5 |
| Constructional Features | 4.9/5 |
| Supporting Features | 4.7/5 |
| Durability | 4.9/5 |
| Price | 4.8/5 |
| Overall | 4.8/5 |
STIGA Optimum 30 Review
| | |
| --- | --- |
| Play Dimensions | 9' x 5' x 2.5' (108" x 60" x 30") |
| Tabletop Thickness | 30 mm (1⅕") |
| Material | MDF (Medium Density Fiberboard) |
| Storage Dimensions | 60" W x 25" D x 62" H |
| Playback Dimensions | 60" W x 68" D x 62" H |
| Color | Blue |
| Approval | ITTF |
STIGA Optimum 30 is the first-ever ping pong table that has a tabletop thickness of 30 mm (1⅕"). The quality of bounce depends on the table thickness and with a 30 mm thick tabletop, the Optimum 30 gives truly an even, uniform, and consistent ball bounce. The playability of this MDF table is incredible. You will get the feeling right from the first hit on the table. The tabletop is pretreated several times and the special varnish coating gives the final touch for a perfect surface quality with the right amount of spin and bounce.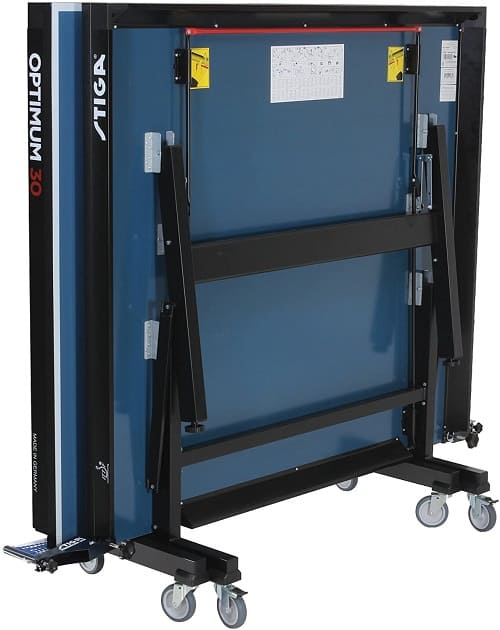 Though it is a heavy table, the 2-halves design makes it possible to fold the table into a 25" compact shape which is convenient to store within a small space.
| | |
| --- | --- |
| Apron Material | Alloy Steel |
| Apron Thickness | 2⅖" |
| Leg Material | Alloy Steel |
| Leg Thickness | 2⅖" x 1⅗" |
| Height Adjuster | Yes (4) |
| Wheel Diameter | 4" |
| No. of Wheels | 8 |
| Net and Posts | STIGA VM Net and Posts |
| Weight | 310 lbs |
To support the heavy tabletop, a strong, sturdy 2⅖" thick alloy steel apron is used to keep the table surface even for years to come. To take the huge load, there are four heavy-duty 2⅖" x 1⅗" steel legs. The self-foldable feature of each leg is advantageous to fold or unfold such a heavy table without much effort. There are 8 machine grade 4" caster wheels that help to smoothly glide the nested halves to the desired location.
The Optimum 30 is included with a premium quality ITTF-approved STIGA VM net system which has been used in many prestigious tournaments like the World Championships or Olympics.
STIGA Optimum 30 table gives you the benefits of many supporting features.
Playback Feature
This extra advantageous feature gives you the benefit to hone your skills by rebounding the ball against one vertical table half.
Safety Feature
The innovative locking system takes care during folded and playback positions.
Each caster wheel is lockable to ensure safety by keeping the table in position.
Height Adjuster
4 leg levelers at the bottom of each leg ensure stability and flatness for perfect alignment of the two table halves.
STIGA Optimum 30 is rated very high in terms of durability due to two main reasons.
Heavy-duty Structure: All the structural components, from tabletop to legs are very strong, sturdy, and rigid which add to a heavyweight of 310 lbs.
The material quality of the MDF tabletop and alloy steel legs is good enough to sustain for long years.
Being such a supreme performer, the Optimum 30 is relatively lower-priced compared to other premium tables from Butterfly, Cornilleau, or Kettler. And surprisingly, now it is available for $1399.99 on Megaspin!
Positives of STIGA Optimum 30
The truest possible bounce for ultimate satisfaction
Strong and sturdy
Easy portability and compact storage
Self foldable
Innovative locking system
Very high-quality net and post system
ITTF approved
A world-class brand like STIGA
One-year warranty support
Negatives of STIGA Optimum 30
Bigger wheels (6" or 8") would be more beneficial
Provision of paddle and ball holders is desirable for such a high-standard table
You need to hire at least 2 people to assemble this heavy table.
Assembly time of 1-2 hrs.
Summary
STIGA Optimum 30 is an excellent choice for those who are crazy for perfection, the best feeling, and ultimate satisfaction for playability. This thick table tennis table gives you the perfect spin, the best possible bounce on any part of the table, be it in the middle or at the edge.
But if you are thinking of a recreational table for your home, you need not consider this tournament standard table. Rather a table like STIGA Advantage or JOOLA Inside would surely be a better option for you.
For more alternatives, you may check my article "The Best Ping Pong Tables 2022: A Complete Review".