For inadequacy for space to place a full-size table tennis table in a room, the best alternative is the ¾ size small table which gives the feel of a regulation table. The Butterfly Junior table tennis table comes as a first choice for a ¾ size table with superior quality, portability, and two color options.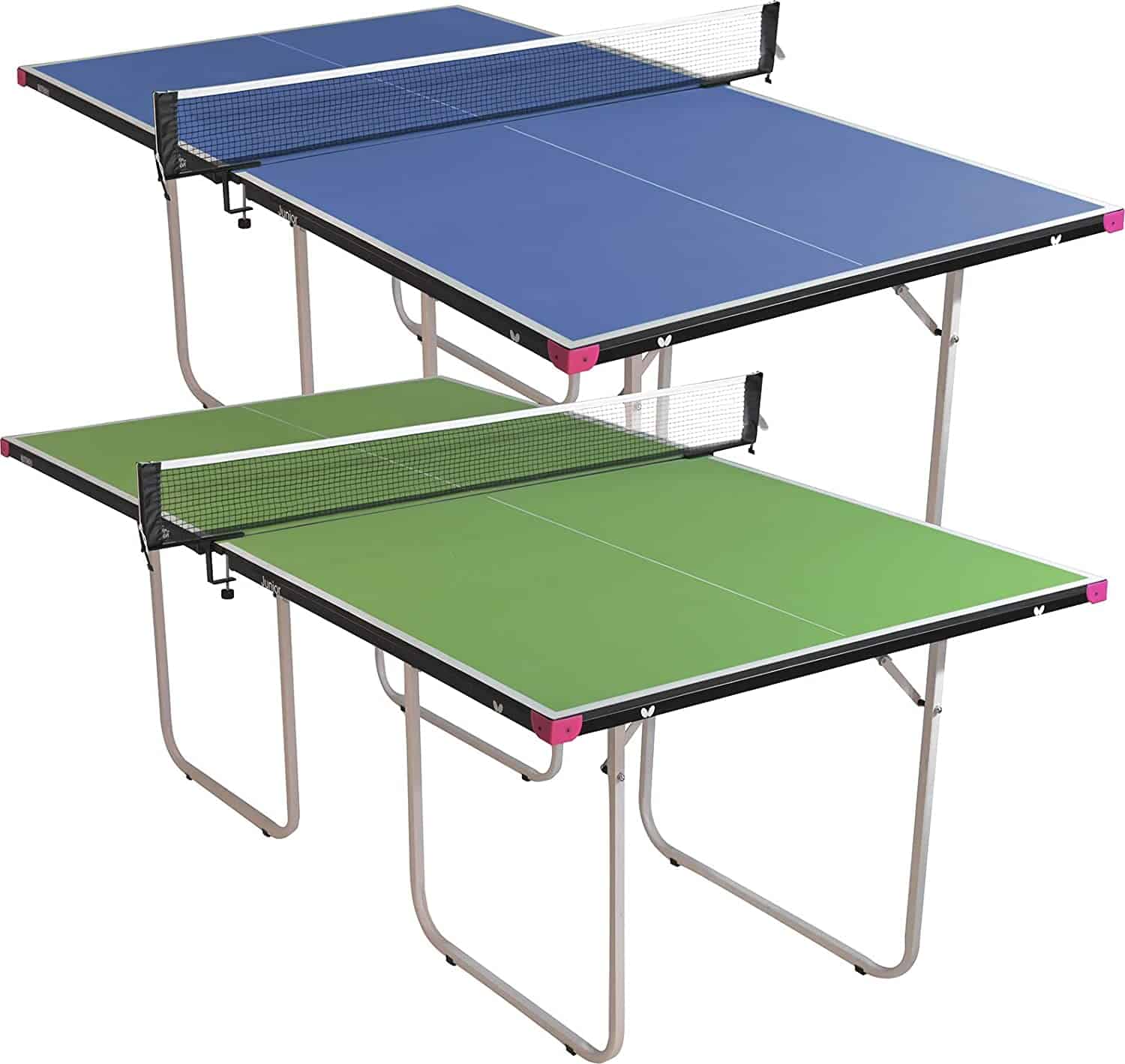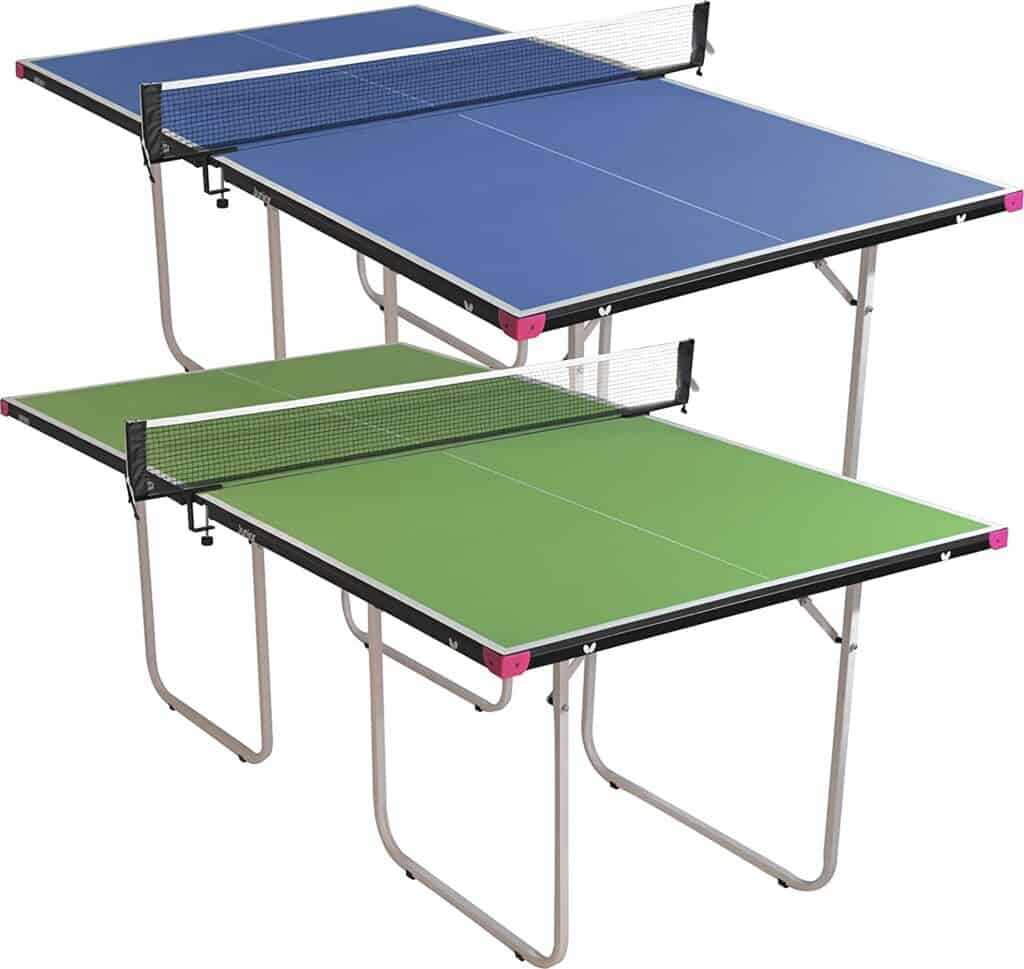 Specifications
Dimensions:
Inches: L81" x W 45" x H 30"
Feet 6.75 X 3.75 X 2.5 ft
MM: 2057 X 1143 X 760 mm
Table Thickness: ½ inch (12 mm)
Weight: 72 lbs (33 Kg)
Assembly Time: 5-10 min (100% pre-assembled)
Regulation height net
Color: Blue or Green
What is a ¾ size table tennis table?
A ¾ size table is the best option when space is the constraint to fit a full-size table tennis table inside your room. As the name suggests, the dimensions of a ¾ size table are ¾ of the dimensions of a full-size table except for height. The height of ¾ the size table remains the same as the regulation table to restrain from messing up your game.
So the dimensions of a ¾ size table are:
(9 x ¾) X (5 x ¾) X 2.5 ft = 6.75 x 3.75 x 2.5 ft.
Among the variants for a small ping pong table, the ¾ size table is the largest one that assists you to keep the ball on the table on more occasions.
Overview of Butterfly Junior Table Tennis Table
The butterfly Junior is a compact, foldable, quality ping pong table that has a very simple configuration. It consists of a ½" tabletop of two equal halves, foldable sturdy legs, and a regulation height table tennis net.
The thickness of the tabletop is ½ inches (12 mm) which is not good for serious learning. But if you consider it as an opportunity for leisure to engage your family members enjoying ping pong, then this thickness may suffice your requirements. The tabletop is supported by a strong steel apron to keep the table surface even for a long period of time.
This tabletop is a combination of two separate equal halves. Each half has sturdy foldable legs. This Butterfly Junior Ping pong table comes in 100% pre-assembled condition. After receiving the shipment, unfold the legs and join the table halves. Just one minor work is left, i.e. attach the net and you are ready to play. Yes, it's that simple. It hardly takes 5-10 minutes to start enjoying the game of ping pong.
The foldable lightweight table halves make it easy for compact storage. After folding the legs, the table halves take a compact shape of 5" width. You can easily move the joined halves to the desired storage location with the help of wheels attached to each half.
This table includes a standard height net with the arrangements to adjust the tension. You also have the option to choose between the blue and green colored tabletop.
Positives of Butterfly Junior Table Tennis Table
Space saver
Easy to assemble
A very little time is required to assemble the table.
Lightweight
Easy to handle
Compact storage
Safety protective corners to guard your children against injury.
3 years warranty
Negatives of Junior Table Tennis Table
Not recommended for serious learners
About the Brand: Butterfly
Butterfly is undoubtedly one of the most reputed and trusted brands in table tennis. This company has set itself as a benchmark for evaluating any table tennis equipment. With a wide range of quality products, Butterfly surely knocks you first before buying any table tennis equipment.
Wrapping Up
If you have a shortage of space for a full-size table, this ¾ size Butterfly Junior table tennis table is one of the best options to turn your dream into reality. But make sure that you only need a recreational table.
For other alternatives for small tables, check the recommended list of best ping pong tables.