STIGA Space Saver, a compact, foldable, quality ping pong table comes with an option for those who can't afford space for a full-sized table. It is a slightly small-sized (2/3 rd of full size) table that has most of the features of a competitive table tennis table.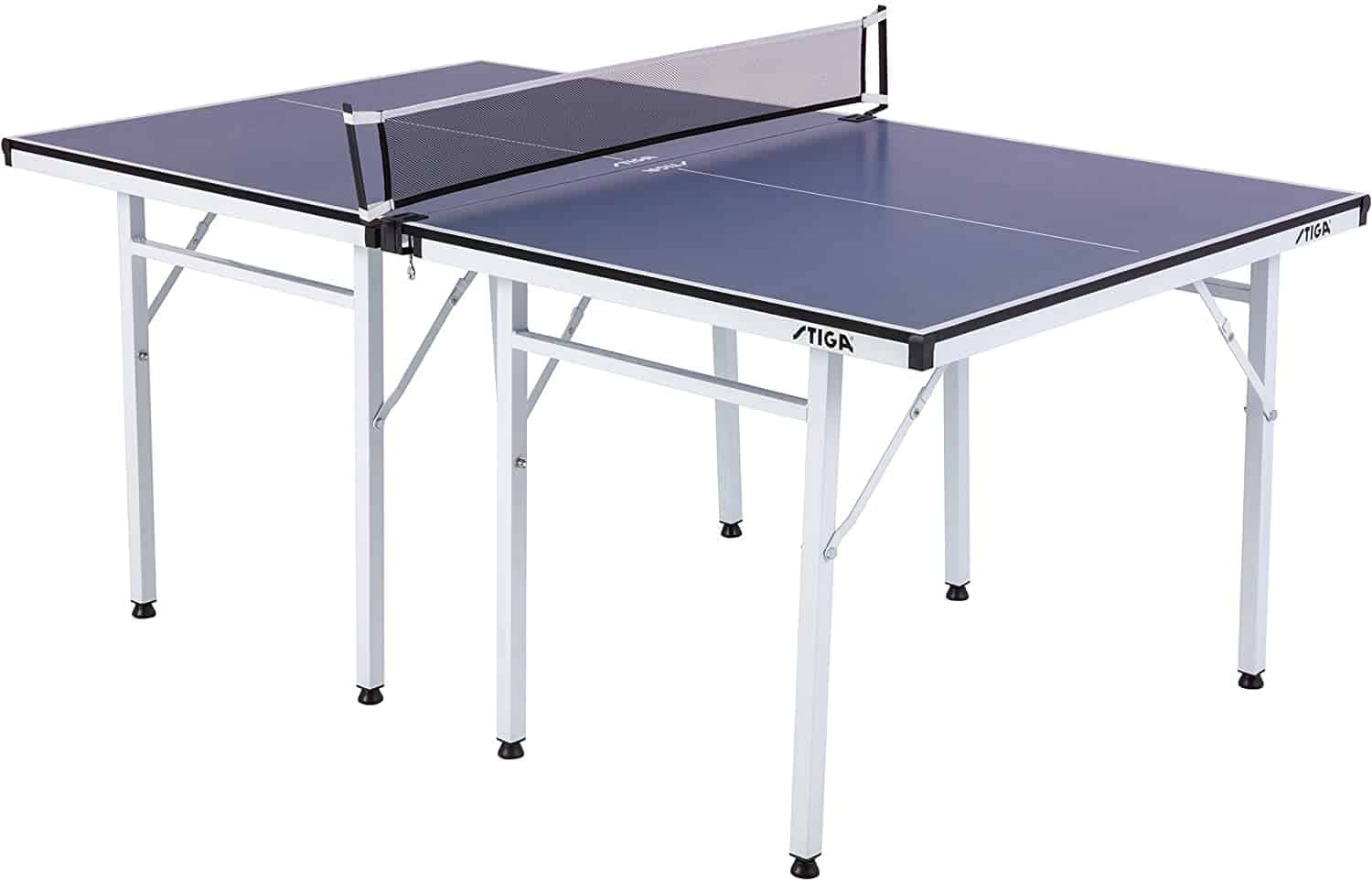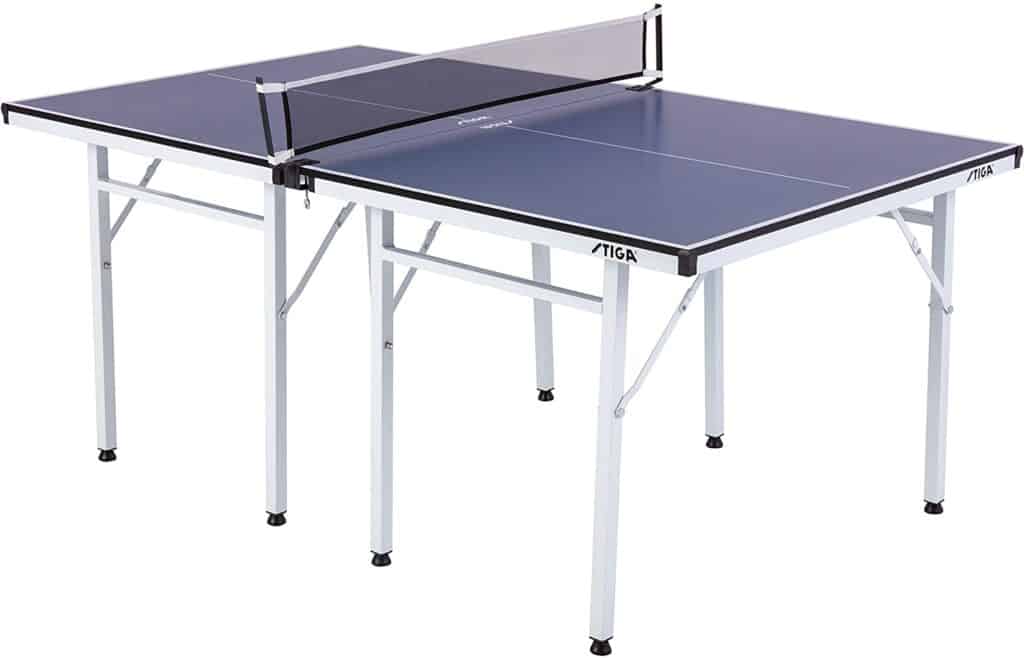 Let's come to the details.
Specification
Dimensions:  71″ L x 40.5″ W x 30″ H
Table Thickness: 5/8 inch
Material of Tabletop: Medium-density fiberboard (MDF)
Material of Legs: Steel
Weight: 79 lbs (36 kg)
Assembly Time: 0 min (100% pre-assembled)
Color: Blue or Woodgrain
Description of STIGA Space Saver
Small Size Table
As the name implies, the STIGA Space Saver is designed to fit in a compact space where a standard ping pong table can't be accommodated. The length and width of this table are 71" and 40.5" which are 2/3 rd (108" x 60") of an official table. STIGA keeps the height of this table (30") the same to prevent messing up your skills. You can also easily switch over to a full-size table in the future.
Table Thickness
Table thickness is the most important parameter for selecting a table tennis table. The approximate weightage of 50% should be given to the tabletop thickness parameter compared to the other selection criteria. Though it is a small-size table, STIGA does not show any compromise regarding the quality of bounce. The Space Saver has a thickness of 5/8" (which is good enough for recreation) that you will find in the regulation tables with a huge price difference.
Smooth Surface for Good Bounce
STIGA Space Saver uses MDF (Medium-density fibreboard) as the tabletop. MDF has an even density throughout and is smoother than plywood or particleboard. Moreover, to enhance the smoothness, the table surface is painted with a repeat roller coat process with silkscreen striping for a perfect finish.
100% Assembled
This midsize table consists of two separate halves of 35.5" x 40.5". The table comes in with two pre-assembled table halves. First, you have to unfold the legs and join the table halves. Then simply attach the net and you are ready to play. It is that simple. It hardly takes 5 minutes to start enjoying ping pong with your friends and family members.
Compact Storage
As earlier said, this table has two equal separate halves. The weight of each table half is approximately 39.5 lbs (18 kg). It is easy to store the foldable halves under your bed or in a closet which gives you a compact storage solution.
Sturdy Legs
For a solid base, it features 1.25" rectangular steel legs that are powder coated. The rectangular-shaped legs always provide more strength than the round legs. For custom height adjustment, there are levelers at the bottom of the legs which also keep your floor free from scratch.
Multiple Use
Each table half is self-standing. This is an added advantage to using the table halves for various entertainment purposes.
Positives of STIGA Space Saver
Good table thickness: This Space Saver features a 5/8" table thickness for good bounce compared to most other small ping pong tables.
Portability: Each lightweight half makes it easy to carry for assembling or storage.
Easy to assemble: You can start playing just by joining each preassembled halves and attaching the net in no time.
Solid base: Each sturdy foldable steel legs prove the solid base of the table.
Very affordable: It costs much lower than a standard ping pong table.
Comes with a net and posts: As expected, STIGA Space Saver is included with a net and post.
Reputable Brand: A very trusted brand like STIGA
Negatives of STIGA Space Saver
Not a regulation size table: It is not a standard size table. So you need some time to adjust to a full-size table.
The net and posts are not of good quality.
Wrapping Up
STIGA Space Saver is considered the best small-sized table which comes as the first option when there is a scarcity of space. This affordable table is lightweight yet strong and sturdy, very easy to set up, very convenient for storage, and above all, it has the capability to produce good bounce.
But if you can afford enough room for a table, then it is better to stick to a full-size table tennis table. You may go through my article for the best ping pong tables.