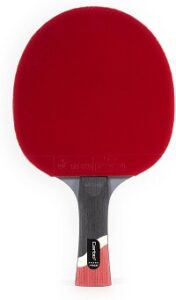 STIGA Pro Carbon Table Tennis Racket
STIGA Pro Carbon, a Shakehand style, lightweight premade table tennis racket by the well-reputed brand, STIGA is specially designed for intermediate and advanced players. Why is STIGA Pro Carbon so popular? The reason behind this is its unique feature of massive power and spin.
Today's table tennis is dominated by aggressive players. They love to generate more speed and spin in their strokes. The capability of the high-speed generation of this racket makes it highly popular among table tennis lovers and the best-selling paddle in the world.
| | |
| --- | --- |
| Who should consider this racket | Who should not consider this |
| Intermediate players who prefer offensive topspin play and want to dominate their opponents with a high amount of speed and spin. | Beginners should stay out from opting for this racket as they will find it difficult to gain control over it. |
Specifications
Blade: 5-ply wood + 2 layers of carbon
Rubber: 2.0 mm S5 Rubber
Rubber Type: Inverted
Style: Shakehand
Weight: 0.35 lbs (159 grams)
Handle: Concave Pro (Flared)
Ratings: Speed – 99, Spin – 100, Control – 80
ITTF Approved
Rating: 9.7/10
Technology Used
Crystal Technology (For harder outer layer)
Balsa Technology (Inner soft, springy wooden layer)
Nano Composite Technology (For tighter bonding among molecules of the top sheet)
ACS Technology (To increase sponge elasticity by inserting tiny air capsules)
WRB Technology (For head-heavy balance by inserting a hollow tube throughout the handle)
Construction of Stiga Pro Carbon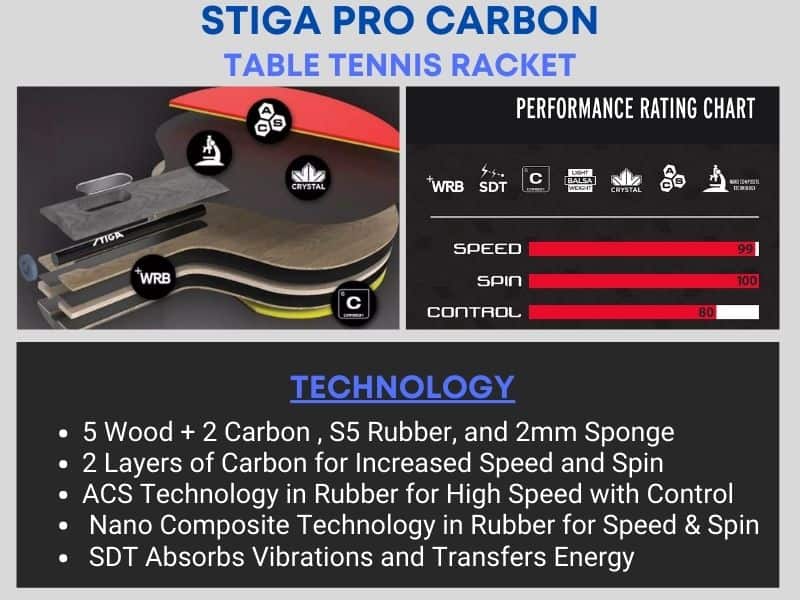 Blade
The Pro Carbon has a 7 veneers composite blade which consists of 5 layers of wood and 2 outer layers of carbon. STIGA has used balsa as an inner wood material in this paddle. As a wood, balsa is soft, light, porous, and springy which is conducive to spin generation. Also, this wood makes the racket lightweight.
Due to the high stiffness of the carbon layers, this blade has a larger sweet spot which gives power over an extended area.
Rubber
The Pro Carbon paddle consists of 2.0 mm thick ITTF-approved STIGA S5 inverted rubbers. The implementation of the Nano Composite Technology in the top sheet tightens the bonds among the molecules which increases the hardness of the rubber.
Also, ACS technology has been used to induce tiny air bubbles inside the sponge which enhances the elasticity of the rubber to a high degree.
Handle
This racket has a concave (Flared) grip handle that uses SDT (Shock Dispersion Tube) technology. A hollow tube running through the handle absorbs shock and transfers it in the form of energy.
Weight
The weight of the Pro carbon racket is 0.35 lbs (159 grams) which is lighter if you consider it with the same category rackets like STIGA Raptor (0.47 lbs or 213 grams ) and Killerspin Jet 800 (0.42 lbs or 190 grams). Though you can swing the lighter paddles quickly, the heavier paddles like the Raptor give you more speed when hitting the ball (Momentum = mass x velocity).
Performance of STIGA Pro Carbon
The high-speed rating of STIGA Pro Carbon is greatly enhanced by the blade configuration. The outer carbon layers increase the stiffness and rigidity of this composite blade. This, in turn, increases the effective heating area, which we refer to as 'Sweet Spot'. Also, the increased hardness of the blade helps to impart higher momentum to the ball which results in more speed.
Being a 7 veneer blade, this paddle is very good for the drive and blocking shots.
The soft and springy nature of balsa wood which is used as an inner material helps to get more spin.
When a ball hits the rubber surface, the ball dips more due to the collapse of tiny air bubbles. The springing action of the bubbles (contraction and expansion) deflects the ball with more speed and spin.
In the initial stage, when the rubber is new, you can feel its tackiness. This sticky nature of the S5 rubber helps to generate lots of spins on your serve.
The implementation of WRB (W- Weight Balance, R- Rate of Recovery, B-Ball Sensitivity) technology shifts the center of gravity of this paddle towards the top. This head-heavy nature of the racket is good for offensive play and also increases the feeling.
As the paddle gets older, there will be the accumulation of dust particles on the rubber surface and the tackiness of the rubber will be lost after some time. So to get the prolonged life of the paddle, you need frequent cleaning of the rubber topsheet.
The rubbers of the Pro Carbon are replaceable. You can take this opportunity to use the total utility of the blade by replacing the old, worn-out rubbers with good-quality rubbers.
At present, the Pro Carbon racket is available at a price of $77.25 on Amazon which is quite reasonable if you compare it with a well-customized paddle. Good quality customized racket costs around $100 by pasting rubbers against the blade which not only involves time but also requires some skills (But you have the advantage of choosing the blade and rubbers according to your preferences).
Positives of STIGA Pro Carbon
The lightweight paddle (0.35 lbs) is easy to handle.
Very good for looping and smashing due to the high speed and spin that this quality paddle can produce.
More forgiving due to the large sweet spot
After worn out, rubbers can be easily replaced.
Approval from ITTF makes this Pro Carbon racket eligible for playing in tournaments.
Being a very popular racket, the Pro Carbon is easily available.
Lastly, a brand like STIGA Sports, which is a global Swedish table tennis company started its production in 1944. It is one of the world's largest brands of table tennis equipment.
Negatives of STIGA Pro Carbon
An offensive racket of 7 veneers blade and 2.0 mm thick rubbers is not good for defensive strokes like chopping and long pushing.
An included carrying cover would be an added advantage for the protection of the racket from dust and other foreign materials.
Other Alternatives
If this racket is not available to you, you may check some other good alternatives.
Suggested Topic:
1. "STIGA Raptor Vs Pro Carbon: Which is Better?"
2. "STIGA Pro Carbon Vs Killerspin Jet 800: Which is Better?"
STIGA Pro Carbon Plus Vs STIGA Pro Carbon
STIGA has recently launched Pro Carbon Plus, the price of which is twice that of the Pro Carbon but with a greater feeling and more power.
The Pro Carbon Plus consists of a 7 layers blade (5W + 2C), which is the same as Pro Carbon, but the touch carbon technology of the Plus model offers a wider sweet spot. So you can use a larger area for your power stroke which actually gives you a cleaner hit.
STIGA Pro Carbon Plus features STAR5 rubbers which are better for use in competitions.
The Pro Carbon is not included with a racket cover but the Plus model comes with an exclusive package that you can use as a racket storage case.
Conclusion
STIGA Pro Carbon is one of the best rackets available in the market for aggressive intermediate players. You will be delighted to see the amount of speed and spin that it can generate. Though Pro Carbon is an offensive racket, it also offers decent control that is hard to find in any other premade racket. The highest rating of nearly 3000 (4.6 out of 5) on Amazon proves the credibility of this racket.
This lightweight racket can help raise your aggressive play to a higher level and deceive your opponent with a variety of spins. With the moderate price range, Pro Carbon is an excellent buy for a premade paddle.
The best table tennis racket for advanced beginners and intermediate players.

STIGA Pro Carbon, a combination of 7 layers composite blade and 2.0 mm thick rubbers, is very good for speed and spin with moderate control. With the use of many innovative technologies, this lightweight racket is an excellent performer for players who love offensive gameplay.
Related Topic: "The 11 Best Ping Pong Paddles in 2022"